Winchester Lab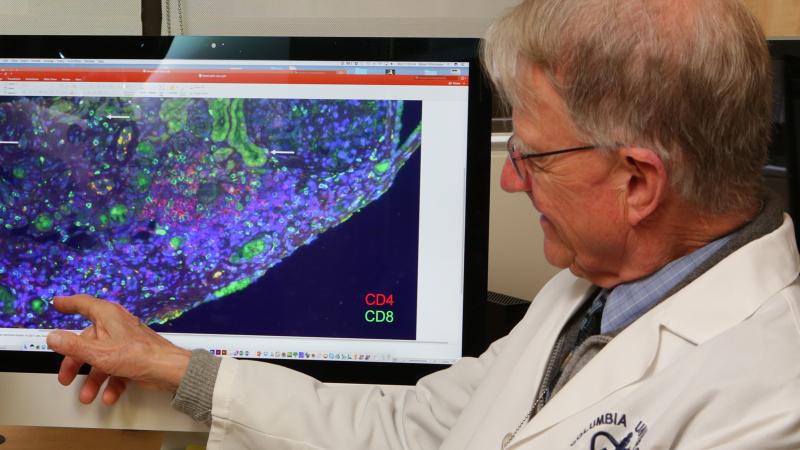 Location and Contact Information
650 West 168th Street
William Black Medical Research Building (BB-1020)
United States
Open location in Google Maps
Our laboratory is organized to study a variety of aspects of how the action of the adaptive immune system results in the development of autoimmune rheumatic diseases. One main direction of the laboratory work concerns the influence of genotype on rheumatic disease development and character of the clinical phenotype. Here a current area of focus is psoriatic arthritis and the influence of HLA-B and HLA-C genotype on the presence and severity of different disease domains such as enthesitis and symmetric or asymmetric sacroiliitis, or on the development of arthritis mutilans. The genotyping uses sequence-based DNA typing performed on a capillary sequencer located in the laboratory. Other genetic work in the laboratory involves determining the extent to which HLA-DR and DQ alleles or allelicly encoded motifs such as the shared epitope influence the development of particular manifestations of rheumatoid arthritis.
Since HLA molecules function to select the repertoire of T cells, including those implicated in tissue injury, a second direction of the laboratory seeks to advance understanding of the diversity of autoreactive T cell clonotypes. A current area of focus is studying the role of particular CD4 and CD8 clonotypes in mediating the development and progression of chronic lupus nephritis. This work is based on sequencing the TCR receptor in different renal tubules and periglomerular interstitium isolated by laser capture of lupus patient biopsies that showed the same very few clonotypes are present in multiple sites throughout the kidney. These clones, which increase in size with progression of nephritis, interestingly were found expanded in the circulation up to 6 years before the onset of chronic nephritis.
The third direction of work in the laboratory seeks to identify the mechanisms of injury through which the adaptive immune system operates to cause autoimmune disease by characterizing the patterns of gene expression at the protein or RNA level in the cells implicated in injury. At the protein level, we have developed large panels of monoclonal reagents directed to various leukocyte antigens that are used in advanced high dimensional flow cytometric analyses to identify particular lymphocyte or monocyte phenotypes associated with a pattern of injury. This work is combined with parallel detailed immunohistochemistry on target tissues to identify whether cells of similar phenotype are present in the tissues. In parallel we characterize the cells of the immune system and the injured target tissues in terms of their patterns of gene transcription using RTPCR, microarray chips or RNAseq to identify the molecular signatures of the tissue injury. In turn these approaches can be linked to the work on sequencing of the TCR clonotype and the identification of disease susceptibility genes to provide a more complete picture of how the elements of the adaptive immune system mediate auto immune disease.
Core equipment of the Medical School used by the laboratory include a 6 laser LSRii flow cytometer and cell sorters, a Zeiss-PALM laser capture microdissection instrument and NextGen sequencers for RNA and DNA sequencing.