Bathon Lab
Location and Contact Information
630 W 168th St,
P&S 3-450
United States
Open location in Google Maps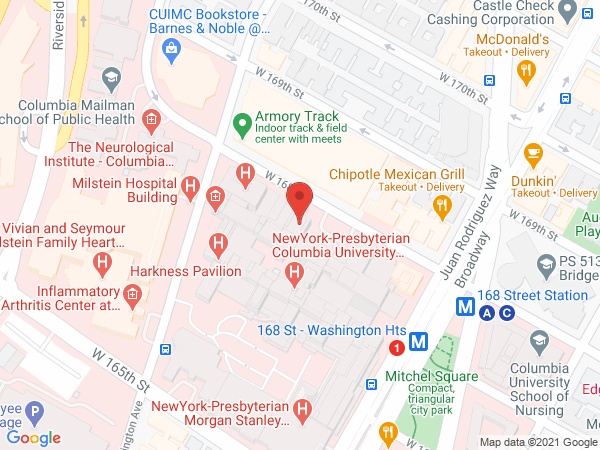 About Dr. Bathon
Dr. Bathon's work focuses on understanding the pathogenesis and functional consequences of inflammation in RA. Her current NIAMS funded work focuses on defining the prevalence and risk factors associated with myocardial inflammation and myocardial dysfunction in RA, using state-of-the-art cardiac PET/CT scanning. In addition, she is an MPI (with Dan Solomon) of a NIAMS funded randomized clinical trial to investigate the effect of RA treatments on vascular inflammation, also measured by PET/CT scanning. Additional efforts focus on identifying serological/DNA/cellular biomarkers that will enhance ability to identify RA patients at highest risk for cardiovascular disease. In her clinical/translational research, she has collaborated with bench scientists on mechanistic and biomarker studies, including: 1) identifying autoantibody activity in RA patients directed against citrullinated myocardial proteins; and 2) investigating the role of T cell and monocyte subsets in accelerated atherosclerosis and heart failure in RA.  She has extensive experience and expertise in developing and studying RA cohorts, as well as in in clinical trials in RA.  Additional detail is provided below.
Research in the Bathon Lab
The Bathon Lab are actively investigating subclinical myocardial structure and function in RA patients as heart failure, like atherosclerosis and CV events, is increased in RA vs controls even after adjusting for coronary artery disease.  This observation suggests that RA related inflammation – either systemic or myocardial – promotes HF.  A key feature of RA is antibodies directed against citrullinated proteins; indeed, we have shown increased levels of citrullinated proteins in RA hearts vs controls.  And data using novel myocardial microarrays indicate seroreactivity in one-third of patients to human myocardial proteins, the identity of which we are now investigating.  This will be the first description of seroreactivity against cardiac proteins in RA.  From a structural point of view, we also observed that RA hearts are 'smaller' (i.e., LV mass is lower) compared to MESA controls, as measured by MRI.  We hypothesized that this may be due to impaired microvascular perfusion in RA myocardia due to vascular inflammation and/or due to chronic myocarditis.  Indeed our recent studies using cardiac PET/CT scanning indicate elevated FDG uptake (myocarditis) in ~one-third of RA patients, and impaired myocardial blood flow in 40%.  Further mechanistic studies are now in progress.
Dr. Bathon's team has also been interested in understanding the effects of chronic rheumatoid inflammation on subclinical atherosclerosis.  Initial efforts were focused on cardiovascular phenotyping of RA patients compared to controls, with regard to presence and extent of atherosclerosis in different vascular beds, as well as prevalence of cardiovascular (CV) risk factors, in RA patients vs controls drawn from the MESA Study (Multi-ethnic Study of Atherosclerosis).  We were one of the first groups to report a higher prevalence of carotid plaque and of more severe coronary artery atherosclerosis in RA patients vs controls, even after adjusting for conventional CV risk factors suggesting RA-associated inflammation to be an independent risk factor for CV disease.  We recently confirmed an association of RA disease activity with arterial inflammation, as measured by FDG uptake. We are currently also pursuing the identification of RA-specific serum, cellular and genetic markers of accelerated atherosclerosis.  Data from the NIAMS funded TARGET trial, in which the effect of RA therapies on vascular inflammation is being evaluated, are expected in 2021-2022.
Select Publications
Amigues I*, Tugcu A, Russo C, Giles JT, Morgenstein R, Zartoshti A, Schulze C, Flores R, Bokhari S, Bathon JM. Myocardial inflammation , measured using 18-fluorodeoxyglucose positrón emission tomography-computed tomography (FDG PET-CT) is associated with disease activity in rheumatoid arthritis. Arthritis Rheumatol. 2019 Apr;71(4):496-506. doi: 10.1002/art.40771. Epub 2019 Feb 28. PMCID: PMC6438738

Amigues I*, Russo C, Giles JT, Tugcu A, Weinberg R, Bokhari S, Bathon JM. Myocardial microvascular dysfunction in rheumatoid arthritis: Quantitation by 13N-ammonia positrón emission tomography (PET)/computed tomography (CT) PET/CT. Circ: CV Imaging. 2019 Dec;12(1):e007495. doi: 10.1161/CIRCIMAGING.117.007495. PMCID: PMC6361523

Giles JT, Fert-Bober J, Park JK, Bingham CO 3rd, Andrade F, Fox-Talbot K, Pappas D, Rosen A, van Eyk J, Bathon JM, Halushka MK. Myocardial citrullination in rheumatoid arthritis: a correlative histopathologic study. Arthritis Res Ther. 2012 Feb 24;14(1):R39. PMCID: 3392839

Fert-Bober J, Giles JT, Holewinski RJ, Kirk JA, Uhrigshardt H, Crowgey EL, Andrade F, Bingham CO, Park JK, Halushka MK, Kass DA, Bathon JM, Van Eyk J. Citrullination of myofilament proteins in heart failure. Cardiovasc Res. 2015;108(2):232-42. PMCID: 4614685.

Giles JT, Malayeri A, Fernandes V, Post W, Blumenthal RS, Bluemke D, Vogel-Claussen J, Szklo M, Petri M, Gelber A, Brumback L, Lima J, Bathon JM*. Left ventricular structure and function by cardiac magnetic resonance imaging in rheumatoid arthritis. Arthritis Rheum. 2010;62:940. PMID 20131277

Giles JT*, Rist PM*, Liao KP, Tawakol A, Fayad ZA, Venkatesh M, Ridker PM, Glynn RJ, Lu F, Broderick R, Murray M, Vanni KMM, Solomon DH**, Bathon JM**. Testing the Effects of Disease Modifying Anti-Rheumatic Drugs on Vascular inflammation in Rheumatoid Arthritis: Rationale and Design of the Treatments Against Rheumatoid Arthritis and Effect on FDG PET-CT (TARGET) Trial. ACR Open Rheumatol. (In press.)

Geraldino-Pardilla L, Zartoshti A, Bag Ozbek A, Giles JT, Weinberg R, Kinkhabwala M, Bokhari S, Bathon JM. Arterial Inflammation Detected with 18F-Fluoro-Deoxyglucose Positron Emission Tomography in Rheumatoid Arthritis. Arthritis Rheumatol. 2018; 70(1):30-39. doi: 10.1002/art.40345. Epub 2017 Dec 1. PMCID: PMC5745261

Winchester R, Giles JT, Nativ S, Downer K, Zhang H-Z, Zartoshti A, Bokhari S, Bathon JM. Association of elevations of specific T cell and monocyte subpopulations in rheumatoid arthritis with subclinical coronary artery atherosclerosis. Arthritis Rheumatol. 2016 Jan;68(1):92-102. doi: 10.1002/art.39419. PMCID: 4690807.

Giles JT, Post WS, Blumenthal RS, Polak J, Petri M, Gelber AC, Szklo M, Bathon J. Longitudinal Predictors of Progression of Carotid Atherosclerosis in Rheumatoid Arthritis. Arthritis Rheum. 2011; 63:3216-25. PMCID: 3205252

Giles J, Szklo M, Post W, Petri M, Blumenthal RS, Lam G, Gelber AC, Detrano R, Scott WW, Kronmal RA, Bathon JM. Coronary arterial calcification in rheumatoid arthritis: comparison to the Multi-Ethnic Study of Atherosclerosis. Arthritis Res Ther. 2009 Mar 10;11(2):R36. PMCID: PMC2688181