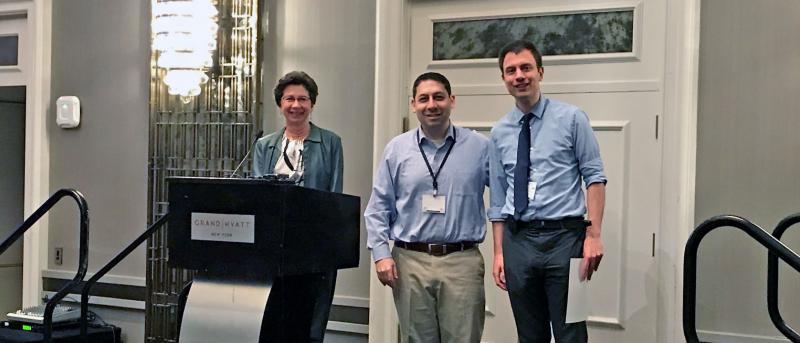 NY State Rheumatology Society Awards First Place to Christian Geier
Postdoctoral rheumatology fellow Christian Geier, MD, has been awarded the Research Excellence During Fellowship Training Award by the New York State Rheumatology Society (NYSRS) for his research in the mechanisms of heart disease in patients with rheumatoid arthritis (RA). The award was presented by NYSRS president Howard Blumstein on May 20th, as part of the society's annual meeting in New York City.
The poster competition, new this year, is part of an ongoing effort by the society to recognize New York rheumatology fellows in training along with their departments. Dr. Geier will receive $2,000 to be used towards attendance of additional educational meetings, and the Division of Rheumatology at Columbia University Irving Medical Center will receive an additional $2,000 to be used to further its educational endeavors.
The winning poster, titled Antibodies to recombinant citrullinated myosin are associated with measures of diastolic dysfunction in patients with rheumatoid arthritis is the product of Dr. Geier's research into why patients with RA have increased cardiovascular morbidity compared to age-matched non-RA patients. Preliminary research shows that RA patients may generate antibodies against citrullinated myosin which may contribute to myocardial dysfunction in RA.
"While the amount of joint damage caused by RA has improved tremendously with newer drugs like Enbrel and Humira, the effect of RA on the heart and the blood vessels has not," Dr. Geier said. "Because of this, increased cardiovascular risk is now the leading cause of early death and impaired quality of life in RA. We are working to better understand the mechanisms of heart disease in RA with the goal of targeting these pathways and ultimately helping patients with RA lead longer and healthier lives."
Dr. Geier is a first-year fellow in the Division of Rheumatology. Division Chief Joan Bathon, MD is the senior author for his award-winning project. She is also the principal investigator of several groundbreaking clinical trials in RA.