Current Fellows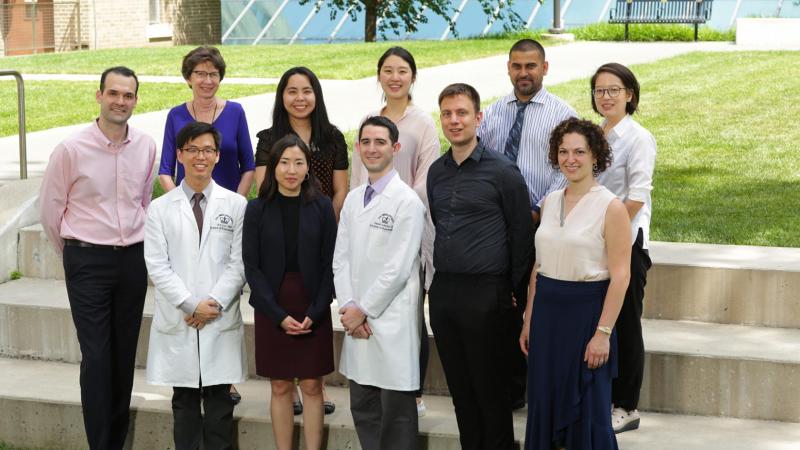 Second-Year Fellows
Maddalena Allegretta, MD

Dr. Maddalena Allegretta was born and raised in Wood-Ridge, New Jersey. She received her undergraduate degree from Seton Hall University and masters degree from Columbia University, before attending Rutgers University-New Jersey Medical School. She completed her residency at Mount Sinai Hospital prior to returning to Columbia as a rheumatology fellow.

Dr. Allegretta's interests within rheumatology include Systemic Sclerosis.

Outside of rheumatology her interests include traveling, exploring NYC and spending time with family/friends.

Dahlia Hassan, MD

Dr. Dahlia Hassan is from Long Island, New York. She graduated from Columbia University with a Bachelor's degree in Neuroscience and Behavior. She went on to attend the Donald and Barbara Zucker School of Medicine at Hofstra/Northwell, and returned to New York City where she completed her Internal Medicine residency at Mount Sinai Hospital. Dr. Hassan has an interest in Medical Education and conducted research on medical trainee burnout and depression during residency.

Outside of work, she enjoys playing the cello, exploring New York City by foot, and trying new restaurants.

Paula Song, MD

Dr. Paula Song was born in Charlotte, North Carolina, but was mostly raised in Atlanta, Georgia and New York City. She went out west for college at the University of California, Berkeley. After spending time back at home to attend the Emory University School of Medicine, she returned to the Bay Area/Northern California for internal medicine residency at Santa Clara Valley Medical Center.

Dr. Song's academic interests include complex systemic disorders like scleroderma and vasculitis. She is also interested in health disparities in urban communities. Outside of medicine, she enjoys hiking, studying/working at cafes, and pottery.
First-Year Fellows
Ayat Abdelgadir, MD, MBBS

Dr. Ayat Abdelgadir was born in Khartoum, Sudan, where she was raised in addition to Toronto, Canada. She attended the University of Khartoum, Faculty of Medicine. She then went on to complete her internal medicine residency at Michigan State University prior to joining Columbia as a rheumatology fellow.

Her interests within rheumatology include neurologic and psychiatric manifestations of rheumatic disease and vasculitis. She also has an interest in global medicine.

Outside of medicine, she enjoys hiking and visiting museums and lakes. In addition to spending time with her family. She is excited to be joining Columbia and exploring NYC!

Shane Murray, MD, BMBS

Dr. Shane Murray was born in Sydney, Australia, and raised in Carlow, Ireland. He graduated from University College Dublin with a bachelor's degree in Biomedical, Health & Life Sciences and received his medical degree from the University of Limerick. He completed residency training at Mount Sinai Morningside - West where he also spent an additional year as chief resident.

Dr. Murray has a strong interest in medical education. During his time as chief, he created an educational website for residents and implemented a new academic half-day curriculum.

Outside of work he enjoys playing different sports, cooking, and traveling.

Emily Press, MD, MS

Dr. Emily Press is originally from outside of Boston. She completed her undergraduate degree in community health at Brown University and her graduate degree in health policy and management at The Harvard School of Public Health.

Emily worked in hospital administration here at New York-Presbyterian prior to attending medical school at George Washington University. She returned to NYC for her residency in internal medicine at The Mount Sinai Hospital.

Emily's interests include systems-based approaches to medicine, the patient-physician relationship, running in the park, and exploring the sights and tastes of the city- mostly the finest of NYC pizza!