Edward Dwyer, MD
Expertise in:
Gout, Myositis, Vasculitis
Board Certifications:
Internal Medicine, Rheumatology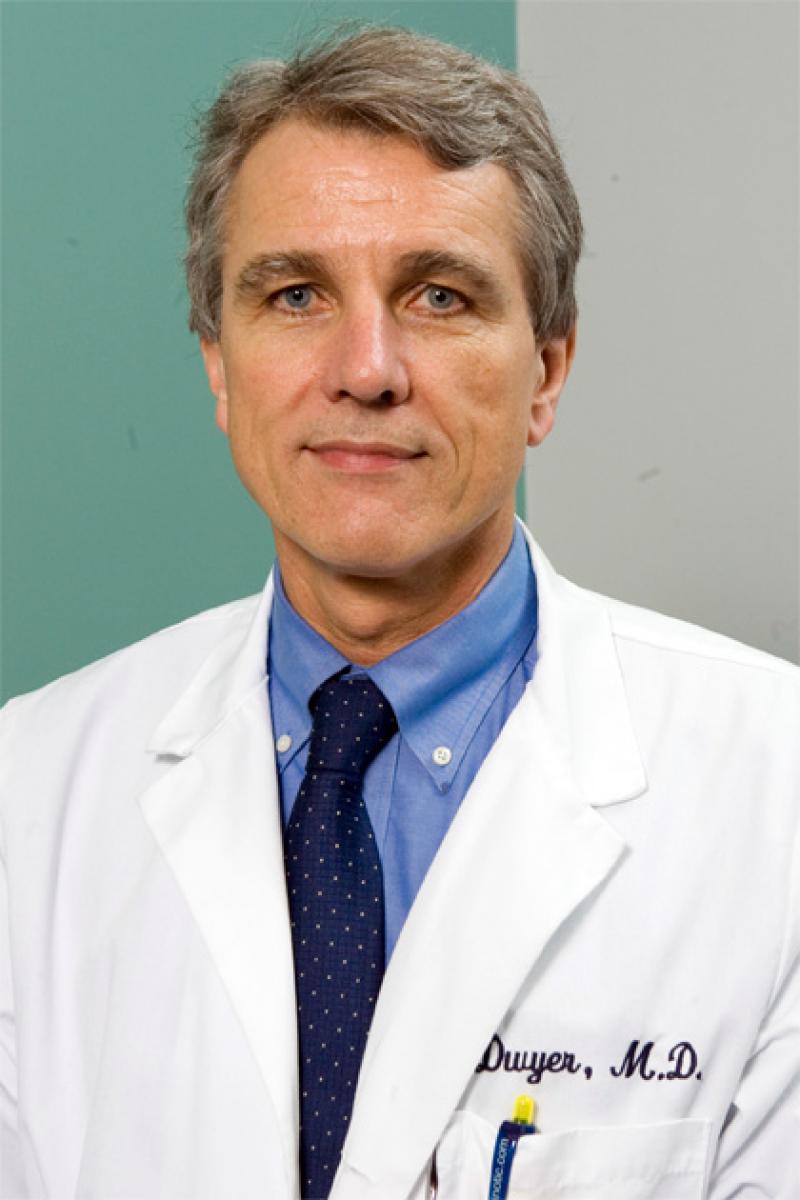 Overview
Areas of Expertise / Conditions Treated
Gout, Myositis, Rheumatoid Arthritis, Scleroderma, Spondylosis, Systemic Lupus Erythematosus, Vasculitis
Academic Appointments
Associate Professor of Medicine at CUMC
Hospital Affiliations
NewYork-Presbyterian / Columbia University Irving Medical Center
Schedule an Appointment
New and Existing Patients:
Location(s)
CUMC/Herbert Irving Pavilion
161 Fort Washington Avenue
Insurance Accepted
Aetna
EPO
HMO
Medicare Managed Care
NYP Employee Plan
NY Signature
POS
PPO
Signature Administrators
Student Health
AgeWell
Medicare Managed Care
Special Needs Plan
Capital District Physician Health Plan
Capital District Physician Health Plan
Cigna
EPO
Great West
HMO
POS
PPO
Empire Blue Cross Blue Shield
EPO
Medicare Managed Care
PPO
Medicare
Traditional Medicare (NY)
MVP Health Care
Child/Family Health Plus
Essential Plan
HMO
Medicaid Managed Care
UnitedHealthcare
Columbia University Employee Plan
HMO
Medicare Managed Care
POS
PPO
VNSNY CHOICE
Medicare Managed Care
Special Needs Plan
*Please contact the provider's office directly to verify that your particular insurance is accepted.
Credentials & Experience
Education & Training
Medical College of Ohio
Internship: St. Luke's-Roosevelt Hospital Center
Residency: St. Luke's-Roosevelt Hospital Center
Fellowship: Hospital for Joint Diseases
Board Certifications
Internal Medicine
Rheumatology
Research
Research Interests
Gout
Limited Scleroderma
Localized Scleroderma
Muscle Inflammation (Myositis)
Osteoporosis
Phlebitis
Rheumatic Diseases
Rheumatoid Arthritis
Scleroderma
Systemic Lupus Erythematosus (SLE)
Vasculitis
Selected Publications
Original, Peer Reviewed Articles
S. Lee, A. Nunez-Roldan, E. Dwyer, L. Pompeo, R. Winchester, Definition of DRw10 by restriction fragment length polymorphism. Tissue Antigens, 33:466-474, 1989.
Steere, E. Dwyer, R. Winchester, Association of chronic Lyme arthritis with increased frequencies of DR4 and DR2, New England Journal of Medicine, 323:219-223, 1990.
E. Dwyer, S. Itescu S., and R. Winchester, Characterization of the primary structure of T-cell receptor ß chains in cells infiltrating the salivary gland in the sicca syndrome of HIV-1 infection: evidence of antigen-driven clonal selection suggested by restricted combinations of VßJß gene segment usage and shared somatically encoded amino acid residues, J Clin Invest, 92:495-502, 1993.
S. Itescu, S. Rose, E. Dwyer, and R. Winchester, Certain HLA DR5 and DR6 MHC class II alleles are associated with a CD8 lymphocytic host response to HIV-1 characterized by low viral strain heterogeneity and slow disease progression, Proc Natl Acad Sci, 91:11472-11477, 1994.
CR. Ritchlin, E. Dwyer, R. Bucala, and R. Winchester, Sustained and distinctive patterns of gene activation in synovial fibroblasts and whole synovial tissue obtained from inflammatory synovitis, Scand J of Immunol, 40(3):292-298, 1994.
S. Itescu, S. Rose, E. Dwyer, and R. Winchester, Grouping HLA-B locus serologic specificities according to shared structural motifs suggests different peptideanchoring pockets may influence the outcome of HIV-1 infection, Human Immunol, 42(1):81-89, 1995.
E. Dwyer, Disease-specific structural motifs of αß T-cell receptors of infiltrating Tcells in sicca syndrome, Annals New York Acad of Sci, 756:357-369, 1995.
SM. Kawut, L. Shah, JS. Wilt, E. Dwyer, PA. Maani, TM. Daly, MK. O'Shea, JR. Sonett, SM. Arcasoy. Risk factors and outcomes of hypogammaglobulinemia after lung transplantation. Transplantation. 79(12):1723-1726, 2005 Jun 27.
NH. Yip, DJ. Lederer, SM. Kawut, JS. Wilt, F. D'Ovidio, Y. Wang, E. Dwyer, JR. Sonett, SM. Arcasoy, Immunoglobulin G levels before and after lung transplantation. American Journal of Respiratory & Critical Care Medicine. 173(8): 917-921, 2006 April 15.
Almuti, J. Haythe, E. Dwyer, S. Itescu, E. Burke, P. Green, C. Marboe, D. Mancini, The Changing Pattern of Humoral Rejection in Cardiac Transplant Recipients. Transplantation. 84(4), 498-503, 2007 August 27.
BA. Fallon, JG. Keilp, KM. Corbera, E. Petkova, CB. Britton, E. Dwyer, I. Slavov, J. Cheng, J. Dobkin, D. Nelson, HA. Sackeim. A Randomized Placebo-Controlled Trial of Repeated IV Antibiotic Therapy for Lyme Encephalopathy. Neurology. 70(13):992-1003, 2008 Mar 25.
JR. Berman, D. Lazaro, T. Fields, A. Bass, E. Weinstein, C. Putterman, E. Dwyer, S. Krasnokutsky, S. Paget, MH. Pillinger, The New York City Rheumatology Objective Structured Clinical Examination: five-year data demonstrates its validity, usefulness as a unique rating tool, objectivity, and sensitivity to change. Arthritis & Rheumatism. 61(12):1686-1693, 2009 Dec 15.
Case Reports
J. Classen, E. Dwyer, S. Maybaum, MS. Elkind, Rheumatoid leptomeningitis after heart transplantation. Neurology, 66(6):948-949, 2006 Mar 28.
JM. Lasker, CJ. Fong, DT. Ginat, E. Dwyer, AH. Hielscher, Dynamic optical imaging of vascular and metabolic reactivity in rheumatoid joints. Journal of Biomedical Optics. 12(5):052001, 2007 Sep-Oct.
Reviews, Chapters and Editorials
R. Winchester, PK. Gregersen, P. Merryman, E. Dwyer and S. Lee, Hypotheses on the molecular basis of susceptibility to rheumatoid arthritis. Scand J Rheumatol, 76:9-16, 1988.
M. Kalil, S. Ward, D. Tyan, H. Coppin, L. Satz, L. Degos, and E. Dwyer: Final Workshop Report: HLA class I RFLP. In: Immunobiology of HLA, Volume I, Histocompatibility Testing 1987, B. Dupont, ed., Springer-Verlag, New York, 877-881, 1989.
R. Winchester, E. Dwyer, S. Itescu, LJ. Brancato and G. Solomon: Immune recognition events in rheumatic disease mediated by polymorphic MHC molecules. In: The Second Swiss Seminar in Advanced Rheumatology, Bad Ragaz, 1989, 28th Ed., Hasler F, ed. Ciba-Geigy, Bad Ragaz, 1990.
R. Winchester and E. Dwyer: MHC and autoimmune diseases. In: Molecular Immunology of Self Reactivity, C.A. Bona and A. Kaushik, eds. Marcel Dekker Inc., New York, 1991.
E. Dwyer and R. Winchester: The role of T cell antigen recognition and self-tolerance in autoimmunity. In: Autoimmunity and Molecular Biology: A Textbook for Clinicians, E. Brahn, ed., Little Brown and Company, Boston, 1991.
R. Winchester, E. Dwyer, and S. Rose: The genetic basis of rheumatoid arthritis. In: Rheumatic Disease Clinics of North America: Genetic Factors, G. T. Nepom, ed., W. B. Saunders Company, 1992.
E. Dwyer and R. Winchester, The Genetic Basis of Chronic Lyme Disease. In: Lyme Disease, V. Coyle, ed., Mosby Press, 1993.
E. Dwyer, and R. Winchester, The role of the trimolecular complex of αß T-cell receptor-MHC+peptide in the pathogenesis of systemic sclerosis, Int Rev Immunol, 12:271-282, 1995.
E. Dwyer and R.G. Lahita. Ribosomal Autoantibodies. In: Autoantibodies, J.B. Peter and Y Shoenfeld, ed., Elsevier, 1996.
E. Dwyer, Autoimmune Antigen Presentation Mechanisms. In: Pathogenic Autoimmune Reactions, S. Paul, ed. Humana Press, 1998.
E. Dwyer, Nongonococcal Infectious Arthritis. In: eMedicine Journal, R.E. Wolf, ed., eMedicine.com, Inc., 2009.